July 21/22 2016, Department for Business, Innovation and Skills Conference Centre
 
Speakers and delegates are travelling from across the globe to attend the conference, providing insight into how employer engagement and training is experienced in varied settings.
We are pleased to welcome representatives from the following countries.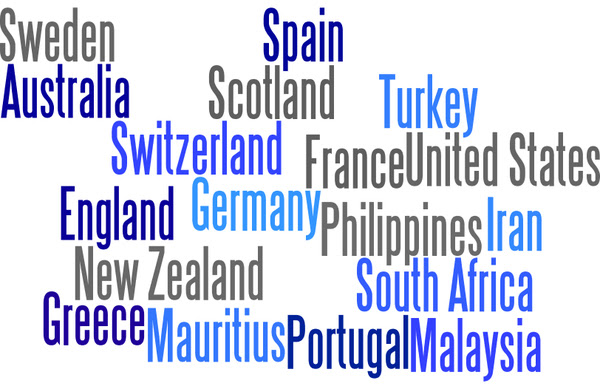 We are delighted to confirm contributions from the following speakers, drawing together some of the key thinkers within this field. Many more speakers will also present at the conference, providing a great breadth and depth of insight into employer engagement and training. Speakers come together from research, policy and practice to create a unique conference programme. To find out more about all of the conference speakers and to register to attend, please visit the conference website.
Speakers include:
HMI Adrian Lyons, Ofsted

Prof. Andreas Schleicher, OECD

Prof. Ann Hodgson, UCL Institute of Education

Dr. Anthony Mann, Education and Employers

Christian Percy, independent academic

David Harbourne, Edge Foundation

Prof. Deirdre Hughes, University of Warwick

Elnaz T. Kashefpakdel, University of Bath

Prof. Francis Green, UCL Institute of Education

Ivan Diego, Valnalon

Prof. James Calleja, CEDEFOP

Prof. Sir John Holman, University of York

Lord Nash, Parliamentary Under Secretary of State for Schools, Department for Education

Julian Stanley, European Training Foundation

Dr. Julie Moote, King's College London

Karina Veal, Asian Development Bank

Kirsty Watt, Academy Ambassadors

Lesley Giles, UK Commission for Employment and Skills

Dr. Paul Comyn, International Labor Organisation

Prof. Prue Huddleston, University of Warwick

Prof. Robert Schwartz, Harvard University

Prof. Sandra McNally, London School of Economics

Sean Coughlan, BBC

Dr. Simon Field, OECD

Dr. Steven Jones, University of Manchester
 
Representatives are attending from the following organisations, covering a huge spread of disciplines and subjects.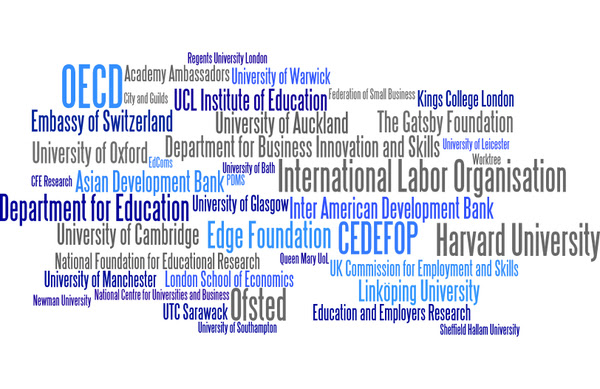 Further information on the conference, the full initial conference programme, and how to register please visit the conference website.
For any queries please contact: Rachael.Mckeown@educationandemployers.org